Reds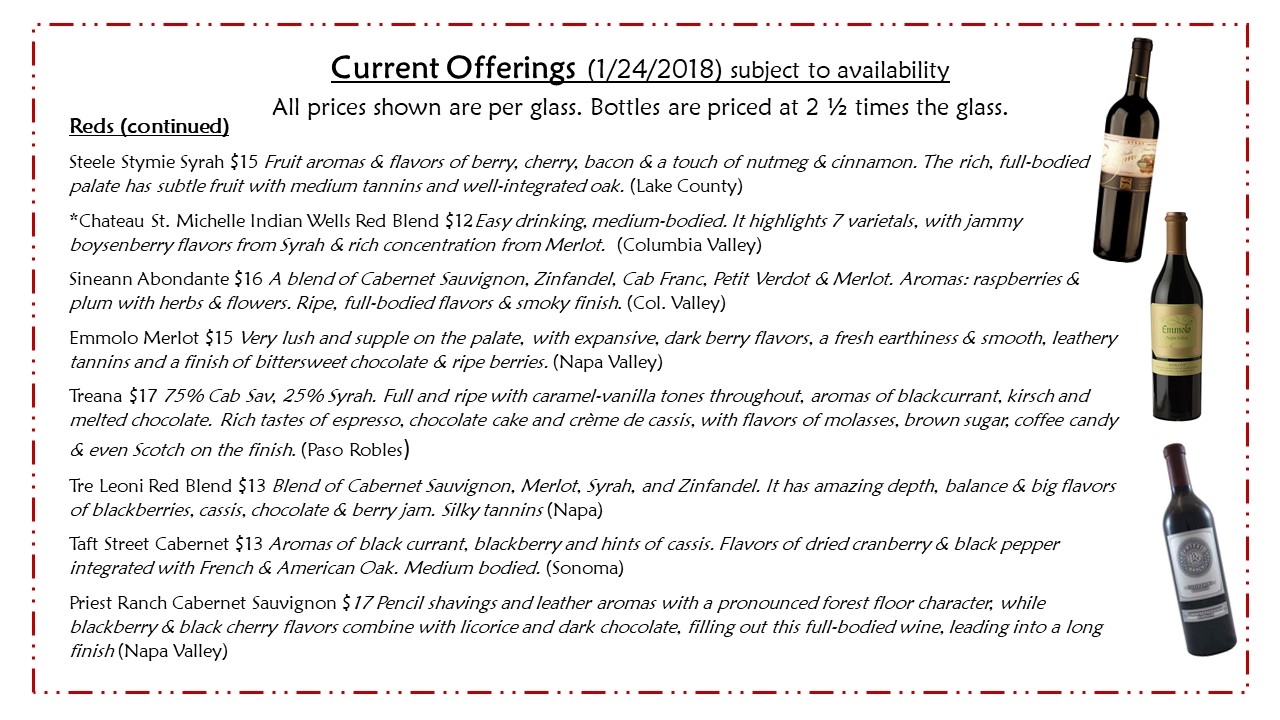 Whites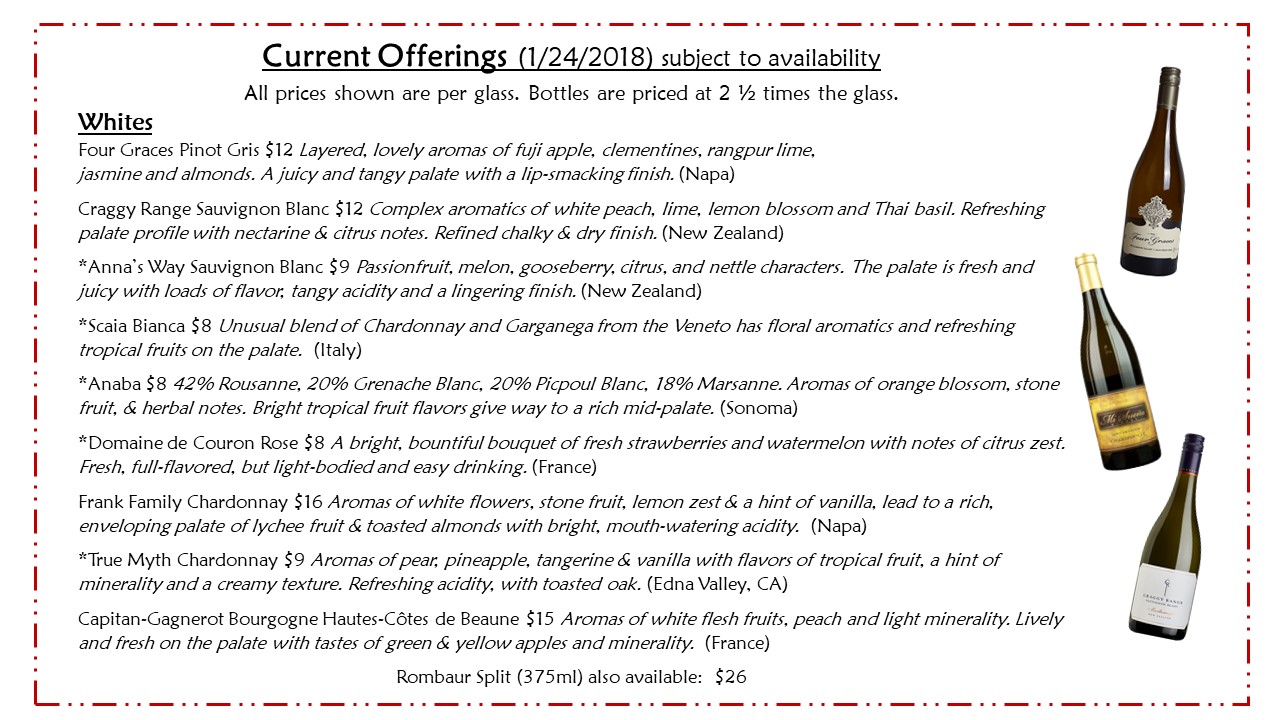 ~Complimentary Popcorn When Available~
Charcuterie Plate
A selection of meats, cheeses, and crackers or bread
Cheese Plate
A selection of three cheeses with crackers or bread
Fruit and Cheese Plate
A selection of seasonal fruit and cheeses
Olives
A selection of olives from around the country and around the world
Other Selections
Goat Cheese from local vendors
Cow Milk Cheeses from local vendors
Salami, Prosciutto, and other meats for your enjoyment
Hummus or cheese spreads
Crackers, bread loafs, and other chips
Beers
Firestone 805                              $3.50
Guinness Stout                             $6.00
Alibi Ale Works Porter                    $5.00
Alibi Ale Works Pale Ale                  $5.00
Alibi Ale Works Saison                    $5.00
Trumer Pilsner                              $4.00
Sierra Nevada Sidecar Orange            $4.00
Lassen Ale Volcanic Double IPA          $5.00
Lagunitas Pilsner                            $4.00
Stone Arrogant Bastard Ale       $5.00
Sodas
Limited selection of sodas available
Books
Glasses Wine Bar has a selection of books and games for many interests. We will have books related to travel, local interests, short stories, biographies, fiction, romance, and many more. The selection of books will change continuously and we will happily trade your favorite books for one of ours.
Games
We have games for your pleasure and are always adding more! Look for Game of Phones, Spot It, Exploding Kittens, and others.
10% off Open Card and Wine by the Glass
10% off open card and wine by the glass purchases with your IVGID card
15% off for Veterans
15% off for Veterans (with valid ID) every day while we are open. Thank you for your service!
15% off on Wednesdays for Teachers
15% off on Wednesdays for teachers with valid I.D.
Thursday Night is Ladies Night
Mention this post on our website and Ladies get 20% off full glasses or open tab cards until closing
Happy Hour Wine Tasting $12
Choose any 4 wines from behind the bar. Receive a 1.5 ounce pour with tasting notes for each one. A great way to try something new. This offer is only available on Tuesday through Saturday from 3-6:00.